So you haven't heard of Sayulita? Â Well, it's definitely worth checking out if you're into fish tacos, surfing and chilled out beach bars. Â It's not one of your big tourist towns like Cabo, Cancun or Puerto Vallarta and as a result it flies under the radar of mainstream tourism…for now. Â At the moment Sayulita remains the playground of backpackers, surfers and those who are "in-the-know". Â This article can give you the basics on what to expect if you decide to make a visit.
WHAT TO SEE AND DO IN SAYULITA:
Surfing:
By far the biggest draw to Sayulita is the surf. Â Its great for begginers and experienced surfers as there are two sides to this beach break that luckily seem to cater to each category. Â The waves break consistently from 1 to 5 feet depending on conditions. Â I chose to stay on the beginners side of the bay.
Deep Sea Fishing:
Tired of surfing, drinking and laying on the beach? Â You can hire a deep sea fishing boat to take you fishing around the Marietas Islands for an afternoon. Â These usually cost a few hundred dollars (USD) to charter, but you can keep the fish if you want. Â Rather than deal with the hassle we just gave our five large fish to the village. Â Most fishing boats leave from Punta de Mita.
ATVs:
If you are sick of the coastal life there are also a number of 4-wheel tours that can take you out to the nearby desert. Â These can all be booked from various travel agencies around Sayulita.
HOW TO GET THERE:
The vast majority of people who arrive in Sayulita will fly into Puerto Vallarta. Â There are usually cheap flights into Puerto Vallarta International Airport (PVT). Â From here, you have about a 1 to 2 hour drive north along the coast.
Rental Car:
By far the best way to get to Sayulita is with your own transport. Â You can get a rental car at any number of places just arcoss from the airport in Puerto Vallarta. Â Rentals start at about $30 USD per day. Â Driving in this part of Mexico is pretty easy…not much traffic and similar to the States.
Shuttle:
There are a number of shuttle companies that offer regular transport from Puerto Vallarta to Sayulita. Â If you are a solo traveler or in a small group try jumping on one of these. Â The price might be comparable to a rental car but at least you don't have to worry about accidents and parking.
Bus:
For a couple bucks you can take the public bus up to Sayulita. Â This option should be reserved for backpackers and folks on a budget. Â Slow but steady, it'll get you there…eventually.
FOOD AND DRINK:
Without question Sayulita is known for its fish tacos…and they are very good! Â Now, I'm in no way a "foodie" but coming from Los Angeles I have had my share of fish tacos and can say that I do approve. Â If thats not your thing or you've gotten tired of fish tacos for breakfast, lunch and dinner there are lots of other options available. Â Remember this is a backpacker spot so burgers, wraps, sandwiches, pasta, pizza and ice cream are all available.
CRIME:
Yes, I know….Mexico is a scary place these days, or at least it was for a while there. Â But not to worry, Sayulita is a tourist town. Â Though it may not be up to the level of its neighbor Puerto Vallarta, its economy is still based on visitors coming into town to eat, drink and surf. Â You should be fine. Â BUT like anywhere in the world, check up-to-date local conditions before going.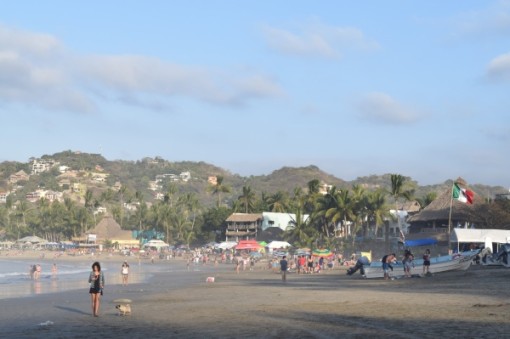 WEATHER:
Sayulita has two seasons. Â A fairly warm, dry winter and a semi-humid, sometimes wet summer. Â So yeah, perfect for passing out on the beach all year round. Â Maybe try to pass out in a light jacket.
WHAT IS SAYULITA LIFE REALLY LIKE?
I want to try and paint a picture for you. Â Try to imagine a small Mexican town that spreads out along the coast. Â The sandy beach stretches almost the full distance of the bay with surfing waves perfect for beginners and experts alike. Â Further back from the sand are a number of beach bars and restaurants while the hills over looking the water are covered with homes and hotels. Â The downtown area is packed full of restaurants and bars catering mostly to gringos looking to get drunk and fed after a long day of surfing. Â The important thing to remember is that this town is not big…its small…and gritty. Â Don't expect the vibe of Puerto Vallarta here.
Thats all folks…enjoy your Mexican vacation!!